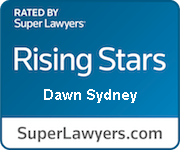 The team at the Law Offices of Dawn Sydney, PLLC, recognizes that family law situations are always difficult for clients. In each case, Dawn Sydney is a passionate advocate for her clients, working to find creative and effective solutions that protect her clients and minimize turmoil.
We are experienced in finding creative solutions to difficult situations to protect you and your future.
Why You Need a Family Law Attorney
As a parent, spouse or partner, you already worry about so many things, including your finances, your children and your future. When legal issues arise, your worries grow exponentially. During these difficult times, guidance from an experienced family law attorney is essential to navigate the process, be your advocate and make sure you have the resources to see you through family law matters.
Here at the law offices of Dawn Sydney, we are skilled in finding creative solutions that help protect you and your future in the face of a difficult situation. Whatever your circumstances, our team is here to listen to and support you. We will do our best to help you achieve the most favorable outcome in your custody case, divorce, child support proceedings or other family law matters.
Because of Dawn's extensive training and experience in family law, she is able to provide her clients with skilled, personable support. She understands how disruptive and overwhelming these situations can be for clients and works closely with clients throughout the process.
Family law is complicated, much more so than people realize. Having the right attorney advocate for you is essential so that your voice is not lost in this emotionally difficult process.
Zealous Advocacy in Family Law Matters
Dawn handles all types of family law matters, including divorce, child custody, complex property, child support, domestic violence and much more. In each situation, she takes the time to learn about the facts associated with the case, as well as the client's goals for resolving the matter. Using this information, Dawn develops a customized strategy designed to resolve the issues in the best interests of her clients.
Dawn has experience in mediations, arbitrations and trials. She works efficiently and effectively to resolve matters out of court. However, if that is not successful, Dawn is your steadfast advocate in the courtroom.